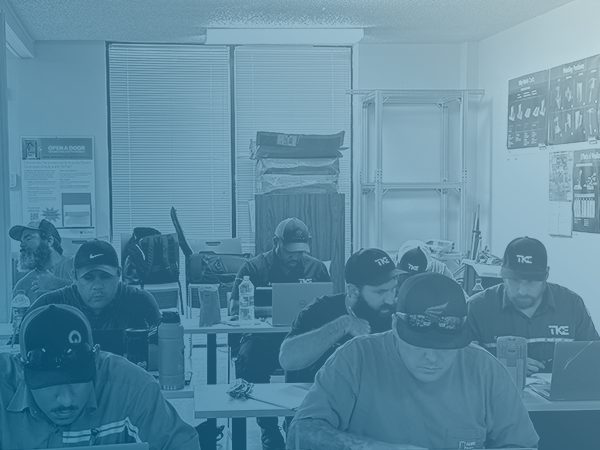 NEIEP Learning Objectives
November 21, 2023
Knowledge is power in the elevator industry, and the National Elevator Industry Educational Program (NEIEP) is responsible for ensuring the quality and efficacy of its program. NEIEP is responsible for crafting, updating, and guaranteeing the quality of the most prominent elevator industry educational program in the country. NEIEP does this in many ways, one of which is using learning objectives to support instructional best practice and student learning. This approach guarantees that Elevator Apprentices have the knowledge and abilities to become skilled mechanics in the elevator sector as soon as they complete their education. As you'll see in this article, using learning objectives is a huge benefit to the Apprentices, as well as their Instructors and NEIEP as an organization.
Let's take a closer look and find out more about the NEIEP learning objectives, the Learning Objectives Report, how they mold the education offered at NEIEP, and how they impact the professional experience of both students and Instructors at NEIEP.
Matching the Elevator Industry's Requirements
The learning objectives in NEIEP are thoughtfully developed using a Job Task Analysis and insightful information obtained from field surveys. The learning objectives are essentially a roadmap that outlines the path a successful student will follow enroute to becoming a qualified Elevator Mechanic, and they encompass the essential knowledge that apprentices must acquire to become well-rounded professionals.
NEIEP makes sure that its curriculum is not just theoretical but also practically relevant by directly aligning course content with industry needs. This prepares apprentices for the real challenges they'll face on the job and helps them to gain experience completing tasks they will see on a regular basis.
Easy to Find
NEIEP's educational infrastructure incorporates learning objectives into various aspects in a seamless manner, making them easily accessible. These objectives are presented to students at the beginning of each unit textbook, serving as a guide for their educational journey. Additionally, lab books include important objectives that emphasize applying knowledge in real-world contexts.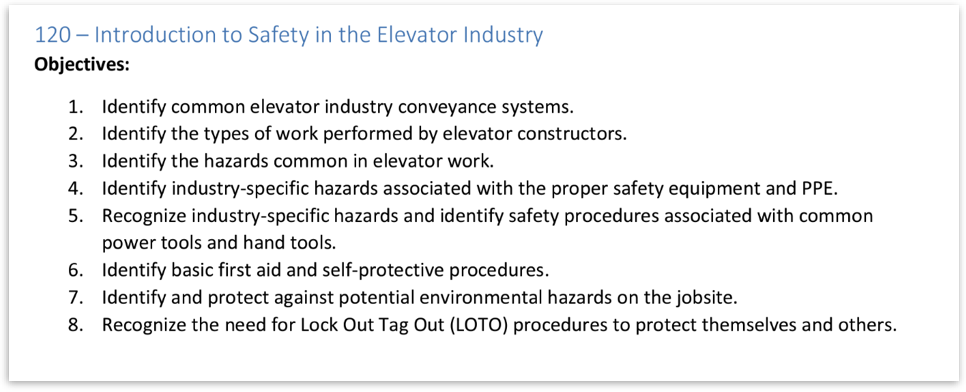 Apprentices can find a comprehensive reference point in the Study Guide for each semester, which is available in the Student Support Materials (SSM) and Instructor Support Materials (ISM) applications installed on NEIEP laptops.
A Tool for Insightful Evaluation
The Learning Objectives Report, which is available via the class report card, offers insight on a student's performance on unit, multi-unit, and comprehensive final exams for each semester. Here is what the Learning Objectives Report looks like:

It includes a list of learning objectives connected to any questions the student might have missed. The way the report is organized makes it easier to identify sections needing more time and consideration.
Usability
Learning objectives are presented in a structured order that corresponds to their numbering in the text to improve usability. Because of this deliberate alignment, it is simple for teachers and students to find specific objectives to review and move through the curriculum.
Learning objective keywords is another tool that makes it easy for students and teachers to search through the text efficiently and accelerate the review process. By searching in the NEIEP text for keywords from the learning objectives, students will be brought to the relevant section to review specific content without having to sift through page after page of course material.
Encouraging Evaluations
Instructors play an essential role in guiding Apprentices to success in the classroom. Instructors can gain important insights into the objectives that students might have overlooked on exams with the help of the Learning Objectives Report.
This data turns into an effective tool for organizing focused review sessions throughout the semester or for building up to a thorough review before the final exam. It gives instructors the ability to address particular issues that students are facing, resulting in a customized and successful learning environment.
NEIEP encourages students to use learning objectives as a compass to help them identify the key concepts they need to review. This method encourages a deeper understanding of the subject matter and better equips apprentices for the range of situations they might face in the workplace.
NEIEP's Robust Approach to Education
NEIEP's inclusion of learning objectives in its curriculum demonstrates its dedication to offering a thorough and successful educational experience. The insightful Learning Objectives Report, the clear layout and structure of the objectives themselves, and the strategic alignment of course content with industry needs all work together to create an educational framework that equips Apprentices to succeed in their careers as competent Elevator Mechanics, not just pass exams.
The result is a stronger elevator industry filled with more fully capable Apprentices, Mechanics, and Instructors. Add to this the benefit that these learning objectives bring to NEIEP, making it a more comprehensive educational program with better instruction and content, and it's clear to see that this approach is a win for the workers, the organization, and the industry.